Aluminium Collapsible Tube Line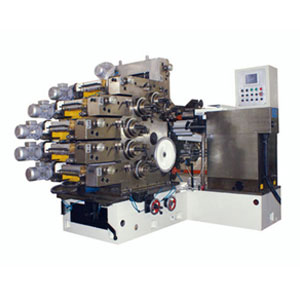 Six Colour Dry Offset Printing Machine
This Six Colour Dry Offset Printing Machine is designed for high quality printing. This machine is design in 10 stations turret with manifold indexer mechanism.
The inking devices can work together or separately. The machine can be adjusted from six to single Colour Printing. The ink distribution can be regulated on one side, with adjusting for Six, five, four, three, two or single Colour Printing.
The ink distribution can be regulated on one side, with the adjusting screws of the distributing roller and on the other side, through the ink adjustment on the Ductor Blades. All the Machine adjustment points are easily accessible and each Printing unit can be set independently of the other. For fine register adjustment is provided with the Plate rolls both axially and radially. The individual rubber inking rolls are easily detachable. The Zinc Plates are fixed firmly on both ends by means of retaining bars or rolls. The Printing Blanket is fixed securely at both ends to the Printing Cylinder and can be easily inserted.
Sr. Nos.
Technical Data
1
Min. & Max. Dia. Printing tube Size
12mm to 35mm
2
Tube Length Maximum
200mm
3
Speed Per Min Tube
60
4
Main Motors
5HP
5
Approx. Height
1800mm
6
Approx. Width
1800mm
7
Approx. Length
2100mm
8
Approx. Weight
3000Kgs
Manual
Machine is designed with manual feed or auto feed by pusher feed mechanism with manual loading of tube on conveyor, but after printing of tube take out will be done manually. Fix dug drive speed and fix mandrel drive in manual machine.
Automatic