Monobloc Aerosol Can Line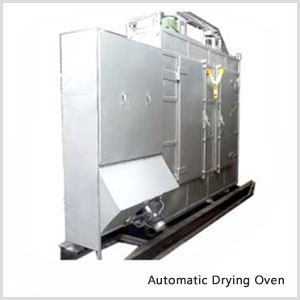 The Drying Ovens are specially designed for the Drying of Coated, Printed & varnish of Cans. Coating & Varnish Cans need more Temperature for drying. The smoke created damages the high gloss of Printing and Coating Finishing on the Cans, so the other Drying Oven is used for Printed Cans in which you need less temperature. The machine is designed with Three Drying Ovens for Coating, Printing & Varnish Machine. The high gloss finish can be obtained only by three separate Drying Ovens. For printing & coating machine drying time required 7 to 8mins & for varnish machine drying time required 9 to 10mins. These ovens are designed in auto combustion gas fired unit as well in electric heaters as per client requirement.
Sr. Nos.
Technical Data
1
Min. & Max. Dia. Drying Cans Size
25mm to 66mm
2
Can Length Maximum
250mm
3
Speed Per Min Can
60
4
Main Motors
1HP
5
Approx. Height
2700mm
6
Approx. Width
900mm
7
Approx. Length
3000mm
8
Approx. Weight
1200Kgs
9
Temperature Up to
200 Degrees C approx.
Manual
Automatic
Extra Accessories
Manual
This machine comes with separate drive 1HP motor & gearbox. Cans are manually transferred onto pegs of drying oven chain.
Automatic
Extra Accessories